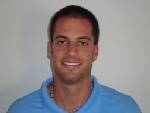 Tony Rienzo, CSCS, NASM-CPT
President, Sports Performance Coach
Tony Rienzo graduated with a bachelor's degree in Health and Exercise Science from the College of New Jersey in December 2004. While in college, Tony worked as a personal trainer at New York Sports Club and interned at the Lawrenceville School in the Strength and Conditioning Department. He earned his Personal Training Certification from the National Academy of Sports Medicine while at New York Sports Club.
After graduation, Tony continued his education and earned his Certified Strength and Conditioning Specialist (CSCS) certification from the National Strength and Conditioning Association.
Tony formerly worked with Lightning Fast Training Systems under current San Francisco 49ers Strength and Conditioning Coach, Duane Carlisle. Under Coach Carlisle, Tony learned what it takes to push athletes to their limits and how to assist each athlete in reaching his or her full potential. Once Coach Carlisle decided to focus all efforts on the 49ers, and after Tony directed Lightning Fast for 3 years, Tony decided to start Athletes Peak.
In addition, Tony is the Assistant Director of Speed, Strength and Conditioning at the esteemed Lawrenceville School, working with female and male athletes from over 20 different sports. Tony has dedicated his life to working with athletes and has worked with thousands of youth athletes. He has helped many improve their overall performance and earn Division I college scholarships.